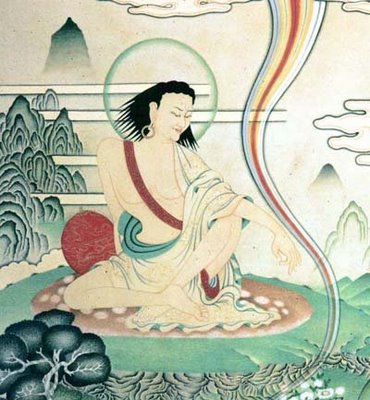 (SOURCE : Life of Milarepa)
Mila Sherab Gyaltsen, Milarepa's father, married Nyangtsa Kargyen,the noble family of Nyang, when he was 21. The couple lived happily and prosperously in the village of Kya Ngatsa. Then some relatives of Mila's grandfather – an uncle named Yungdrup Gyaltsen and an aunt named Khyung Tsha Pedon – moved to the area. By then, Mila's family had been settled there a long time and had an impressive house, considerable land and a thriving business in trade.
While Nyangtsha Kargyen was pregnant with Milarepa, her husband went away on a long trading tour, and during his absence the child was born. A messenger was sent to find the father and inform him that he had a new son, asked him to give a name and to return for a festival. His father was filled of joy and named the boy as ' Töpa Ga'. ' Töpa' means to hear, and 'Ga' means happy or joyous, so his name meant ' Milarepa, a Joy to Hear or Milarepa Good News.' After a while, the father returned home and gave a big celebration in honour of their son.
At the age of four, his mother gave a birth to a girl who was named Peta Gonkyi. When Milarepa was seven years old, his father, Sherab Gyaltsen, became very sick. Realizing that he was not going to recover from his illness, he called together all the relatives for a meeting, including Yungdrung Gyaltsen and Khyung Tsha, the uncle and aunt.