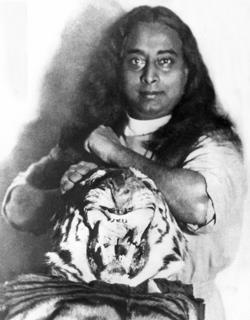 Prayer from the book "Whispers from Eternity"
By Paramhansa Yogananda
I, a lion-cub of the Divine Mother, found myself thrown into life among the sheep of human frailties: of fear, failure, and disease. Living long among them, I learned to bleat with weakness, forgetting my lion-nature and its roars, which could frighten away all petty, pestering sorrows. O Lion of Realization, Thou didst drag me away from those bleating sheep to the mirror-smooth waters of meditation. There didst Thou cry, "Gaze!" But I held my eyes tightly shut, bleating with fear. Thy roar of wisdom then reverberated through my body. Thou madest me, by hard shaking and spiritual urging, open my eyes. And there, lo!
In the crystal pool of my inner peace, I saw my features to be even as Thine own! Now I know myself as the Lion of cosmic power. I will bleat no more with fear, weakness, and suffering, for I roar, now, with vibrant, almighty power! I bound about through the forest of all experiences, seizing little creatures of veixing worries, timid fears, and wild hyenas of disbelief, devouring them ruthlessy. O Lion of Immortality, roar through me Thine all-conquering power of wisdom!