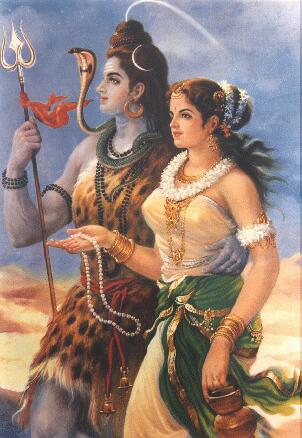 Canto 8: Withdrawal of the Cosmic Creations
Chapter 1: The Manus, Administrators of the Universe
Bhaktivedanta VedaBase: Śrīmad Bhāgavatam (Srimad Bhagavatam)

SB 8.1.7: Svāyambhuva Manu, the husband of Śatarūpā, was by nature not at all attached to enjoyment of the senses. Thus he gave up his kingdom of sense enjoyment and entered the forest with his wife to practice austerities.
SB 8.1.8: O scion of Bharata, after Svāyambhuva Manu had thus entered the forest with his wife, he stood on one leg on the bank of the River Sunandā, and in this way, with only one leg touching the earth, he performed great austerities for one hundred years. While performing these austerities, he spoke as follows.
SB 8.1.9: Lord Manu said: The supreme living being has created this material world of animation; it is not that He was created by this material world. When everything is silent, the Supreme Being stays awake as a witness. The living entity does not know Him, but He knows everything.
SB 8.1.10: Within this universe, the Supreme Personality of Godhead in His Supersoul feature is present everywhere, wherever there are animate or inanimate beings. Therefore, one should accept only that which is allotted to him; one should not desire to infringe upon the property of others.
SB 8.1.11: Although the Supreme Personality of Godhead constantly watches the activities of the world, no one sees Him. However, one should not think that because no one sees Him, He does not see, for His power to see is never diminished. Therefore, everyone should worship the Supersoul, who always stays with the individual soul as a friend.
SB 8.1.12: The Supreme Personality of Godhead has no beginning, no end and no middle. Nor does He belong to a particular person or nation. He has no inside or outside. The dualities found within this material world, such as beginning and end, mine and theirs, are all absent from the personality of the Supreme Lord. The universe, which emanates from Him, is another feature of the Lord. Therefore the Supreme Lord is the ultimate truth, and He is complete in greatness.
SB 8.1.13: The entire cosmic manifestation is the body of the Supreme Personality of Godhead, the Absolute Truth, who has millions of names and unlimited potencies. He is self-effulgent, unborn and changeless. He is the beginning of everything, but He has no beginning. Because He has created this cosmic manifestation by His external energy, the universe appears to be created, maintained and annihilated by Him. Nonetheless, He remains inactive in His spiritual energy and is untouched by the activities of the material energy.
—–
SB 4.23.1-3: At the last stage of his life, when Mahārāja Pṛthu saw himself getting old, that great soul, who was king of the world, divided whatever opulence he had accumulated amongst all kinds of living entities, moving and nonmoving. He arranged pensions for everyone according to religious principles, and after executing the orders of the Supreme Personality of Godhead, in complete coordination with Him, he dedicated his sons unto the earth, which was considered to be his daughter. Then Mahārāja Pṛthu left the presence of his citizens, who were almost lamenting and crying from feeling separation from the King, and went to the forest alone with his wife to perform austerities.
SB 4.23.4: After retiring from family life, Mahārāja Pṛthu strictly followed the regulations of retired life and underwent severe austerities in the forest. He engaged in these activities as seriously as he had formerly engaged in leading the government and conquering everyone.